Having won the competition launched on the 6th March edition of the show, a fortnight later Brendan and his parents travelled from Lincolnshire to London and made their way to the BBC in White CIty where rehearsals were under way.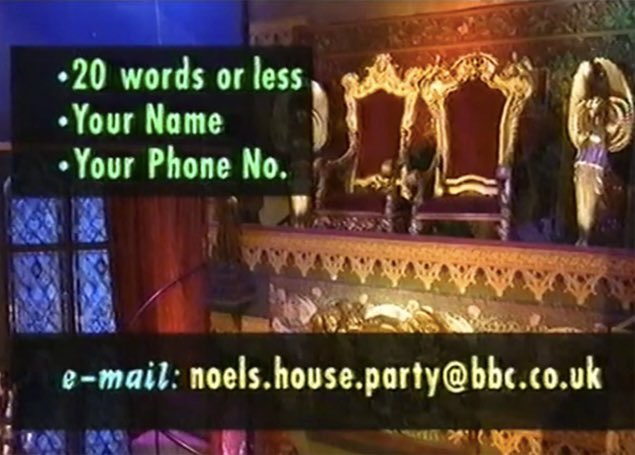 "We were taken in by the Wood Lane entrance, we walked through numerous corridors and then we got to the dressing room block. I got dressing room TC205 which had my name on it, but they covered up who was in it before me and I was in the room Zoe Ball and Jamie Theakston had shared that morning! My tour guide was an absolute gentleman and took us into TC6 where they were just lifting up with the machine the Live and Kicking painted floor, and there was the small staircase where they had "0181…" on it.


"We went down to Studio 1, and I can remember vividly to this day that there were loads of space on the ground floor where the gungees sat, and we sat on the other side. What surprised me was how small it was. We walked through the service tunnel, and Noel was rehearsing on stage at the time, about 2.30pm, They were rehearsing the top of the show – Paul Tylak and Noel in his House Party polo shirt. They announced the best seats in the house, and my parents shouted "he's here, he's here!" as loud as they could. Noel looked across with a big broad smile and said "ello Bren!" I remember them finishing that sequence and Noel saying "come here quickly" onto the actual set where he had his ornate NTV chair and his usual table with his prompt cards, which he had in every single series. He said "I just wanted to invite you up here to say thank you for being such a fan of the show". He took off his branded polo shirt with his name on and gave it to me! I honestly didn't know what to do or say. It felt like I was putting two fingers up to the arseholes at school."
Brendan and his parents then left the studio. "I wasn't privy to the end of rehearsals. They took me into TC4 where Brian Conley was rehearsing The National Lottery: We've Got Your Number, we went to the BBC Shop and had a wander round." By 7pm, it was time to go on air. His moment of fame was transmitted to an audience of 8.3m, the highest the show had received in a year as many tuned in especially for the final programme. "The show at the time…it was like an out of body surreal experience. Sitting up there watching one of your heroes do what he does was about as surreal as it got."
But all these years on, it's time for a confession. Did he really have every episode of the show on VHS? "When Paul Tylak introduced me as Father Seamus, and said "he has recorded every single episode of the House Party illegally", what he should have said was "since around 1994", but of course explaining that in the broadcast would be very hard. So I've probably got a smattering of series 4, almost everything in series 5 and then the 1996, 1997 and 1998 series I've got all of those. When I got to Television Centre that day, the tapes that were on the balcony there actually were from the BBC's own recordings.
So in actual fact the tapes you see on screen…I wanted those badly! I was sat there looking at the spines and I could see series 2, series 3…I thought "I wonder if that's the one with Tom Jones on", because I recorded over that because I'm an idiot. When I was a kid, VHS was expensive, so I thought if that episode wasn't great, I'd tape over it with another one. There were all these episodes from the "zenith" years and I just wanted them!"
Brendan got to see a different view of some parts of the show from his vantage point, including some of the special effects around Mr Blobby's surprise entrance. "When he came on, you can the confetti starts to fall, there's a guy that you can't see sat behind me, and I can see he's got something in his hand on a silver platter – lots of bits of confetti and a bit of roof structure. And when Blobby comes through the door, they drop it on Noel. He looked at me and said "don't worry" – because I assumed I was getting it!

Brendan shared the balcony with a woman who was ultimately proposed to by her boyfriend during the show. "She didn't want to be there. I remember saying to Mum and Dad on the train, it felt like another superfan was cheated for the basis of a short sequence. And proposing to people on television is old hat now, the guy came out of the fireplace a few weeks earlier! But there was a confetti roll that he was also controlling in the top, and if you actually watch what happens when it starts to fall I do an odd double take thinking "what on earth is that"."
It's fair to say the final show isn't quite what it could have been, and Brendan agrees. "The studio atmosphere was very very odd. I thought the NTV was a bit disappointing. It would been nice to do an old fashioned back to basics click-go. It could been quick – if you look at the first show, NTV is over in five minutes!
In the final moments a sequence of highlights was aired. "In the closing montage, there is a sequence in that where DLT appears. He didn't know about that! You could see him lean over to the monitor and go "what…?"."
The actual ending of the programme is something in particular that many viewers were disappointed by "I would have just liked him to walk out the door. The Freddie Starr thing was disappointing at the time. But at the time I didn't like it when Noel got gunged, I thought that was a bit weird. I didn't want what Freddie Starr did. I wanted him to walk out that door. If it had to be anyone – make it Blackburn, or the guys from The Bill. Get Blobby to do it. Or DLT! It was just some petty idea, and it would have had a lot more impact and the public would have appreciated it more if he'd opened the door, shut it behind him and cut to a closing title slide, or bring up to Swap Shop sketch. He was due to go out of the door, close it behind him and do a slow fade to black".
Despite the disappointment of the Starr sequence, being present at a moment of TV history is something Brendan treasures. "Once we'd gone off air, you could see what was going out on the monitors on the first floor, and there were a few hugs and tete-a-tetes, then he asked for a microphone. What I loved is that the people in the audience that night, I imagine a lot of them were invite only. I can't imagine it went onto a lot of general release. But everyone that was there genuinely wanted to applaud him. You can say what you like about his fallout, and his current personality, but to manage to achieve 169 episodes for 6 months of the year for 8 years is a remarkable piece of television from a remarkably talented presenter."
Brendan didn't tell anyone he was going to be on primetime BBC One. The response of his fellow pupils surprised him. "I didn't tell anybody because I wanted it to be my day. It was only when I walked down the path to school on the Monday morning and on the first floor a load of kids in the same year as me were hanging out the window and waving, and when I got to our form room I was inundated with hugs! The real ironic thing about this is that the people who used to take the mickey out of me for watching it so regularly and loving it so much were now hugging me for having been on it. They were bullying me for it a fortnight before and now they wanted to be my best mate."
Seven years later, Brendan decided to use his connections with the show as part of his university degree. "I spoke to Michael Leggo for my dissertation. He was working for Unique at this point. What was strange was I was trying to be a serious journalist but I knew if I went straight in with too many questions about "why did you stick with Mr Blobby" for so long he would say "who do you think you are" and hang up! But he was a remarkably kind and generous person."
Of the launch, Brendan recalls Leggo saying "the rise was pretty statsospehric. Episode 1 went out with limited fanfare but it built incredibly quickly so by Christmas we knew we were onto something and the number of episodes were increased very quickly. The thing that people latched onto very quickly wasn't so much the format but the fact it was live."
He also asked him about the famous surprise on Noel in the penultimate episode of series 3. "I asked him "how on earth did you persuade Tom Jones to come on?" He said "we just booked him and paid!". At that time, 1992/3/4, it had such power, they could basically say "if this show overruns, Casualty can wait. Brucie can wait"."
The VHS archive that got Brendan his position on show 169 has in fact been crucial in the full run of the show appearing online. "A lot of stuff on YouTube that Andy Pearman's uploaded from series 5, 6, 7 and 8 came from me! When his YouTube channel started to gather some momentum, I wrote to him and said my archive is my archive and I have no desire or time to edit everything to the standard you have.

I've got all these if you want to share them, but I don't want a credit. The video of the final show on Andy's channel is the only one I've commented on". Pearman has also brought many unseen studio recordings to a wider audience for the first time, though for Brendan it allowed him to see something he hadn't seen since he was 14. "When Noel said "for some reason I've always had an affinity with the great British public, they seem to like watching me enjoy myself, and it's something I've never taken for granted. Thank you all very much indeed", I welled up a bit because I remember him saying it, and it's 23 years since I saw him saying that."
Brendan feels Noel hasn't been given the recognition he deserves. "I still hold him [Noel] in extremely high regard. He is still in my opinion one of the most accomplished broadcasters of live output the country's ever seen. I find it incredibly annoying that he's got no OBE, no MBE, no BAFTA Fellowship, never won an NTA Special Recognition Award. He was at the top of his game on Saturday nights for 18 years and he was on our televisions for at least once a week for half the year yet we have given awards to people who have made nowhere near that level of contribution, including Barrymore, Paul O'Grady.

As much as I enjoy watching their programmes…I think there is a degree of slight..sneering? One of the sad aspects is he was nominated for a BAFTA for Deal or No Deal against Jonathan Ross in 2006 or 2007. It was remarkably brilliant to see him back doing what he was so good at. I dearly hoped with every fibre of my being that he'd won that BAFTA and god bless him, Jonathan Ross said for the years and contribution that he'd made this should be Noel's."
He's also a huge fan of the show that makes no secret of being "son of House Party", as highlighted by Noel himself in a memorable guest appearance. "One of the things that has prolonged Saturday Night Takeaway is that Ant and Dec are geniuses at what they do, and they clearly used House Party for inspiration but saw what was happening. So in 2009/10 they rested the show for several years, revived it with a new set and title sequence but the basic parts of the show were the same.
If Noel has recognised that the end of 95, when the entire schedule was railroaded with Richard Wilson sending him on the trip, if he'd rested it then and it had come back a few years later, I think it would have done what Ant and Dec did in recognising that you're asking a lot of the public for 22 weeks a year. And Saturday Night Takeaway is only 7 weeks!
Today, Brendan even hands his career to Noel and the House Party. "I work for a leisure and culture company and we manage the Embassy Theatre in Skegness. I have been so unbelievably lucky in the course of my career in the theatre and a lot of that is thanks to him. When we do one of those things at work when you have to introduce yourself to the room, 20 years ago I wouldn't have been proud enough to have spoken of it because there was a part of me that was a tad embarrassed by it. One of the nicest elements of it now being fondly remembered is when I now speak in these forums and people say "any notable achievements" it's right on the list because I look back at it now and think "you know what, it was amazing, I am very proud of it, it was the zenith of Saturday night shows". I'm much prouder of it now than I was because I work in an industry as a result of my enthusiasm for the show."
Noel famously asked at the end of the final show for our memories to be kind. Have they? "I think the British public are a very forgiving bunch. What you look back on when you are older you remember a lot more affectionately than when you are living through it. What Noel said at the end of the edition has come to pass, that our memories are kind to him. You can see from the stuff people post on Twitter, people just remember it more fondly now. It is nice now to see it remembered fondly, and respect it a bit more. The wonderful thing about it and the thing that really resonates from that final edition is that people do remember it a lot more fondly now than when it went off the air. Its fall from grace was pretty spectacular, but its uprise was fairly stratospheric."
After a childhood obsession with the show, a brief appearance on the swansong, a career inspired by it and a huge contribution to the programme's modern online presence that has surely helped the programme's legacy, Brendan can rightly feel proud of his association with the show. "With every March that passes I briefly pay homage to it in some strange way…but it feels like a lifetime ago, and I suppose it is now a generation ago. It's given me a career I adore. The enthusiasm I have came from that…you were just watching someone have an amazing time, and I get paid to do similar in a theatre. I am lucky to do what I do for a living and it all starts from that show. I owe everything to a lot of it."